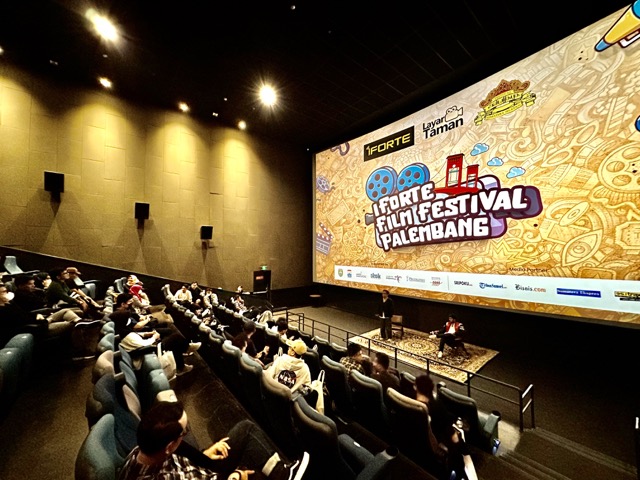 Saturday, 20 May 2023 06:00
iForte Gives a Directing & Cinematography Workshop for Students in Palembang
Palembang, 20th May 2023 – Succeeded in holding the first workshop themed Film Production & Scriptwriting 101 last week; iForte is back with another session with the Directing & Cinematography 101 theme at CGV, Social Market Palembang.
In this workshop, iForte collaborates with two guest speakers whose works have become role models for young filmmakers in Indonesia. The first guest speaker is Ferry Rusli, a cinematographer known for his works, Love For Sale, After Met You, and Story of Kale. The next speaker is Naya Anindita, a film director and producer. Naya is known for the films Anna and Ballerina, Eggnoid, and Imperfect The Series.
This workshop was attended by around 100 participants, including SMA & SMK students and students from Palembang, who were enthusiastic during the session. "We hope that this event can bring an insight to students in Palembang so they can improve their skills and insights in film creation," said Victor Sihombing, GM of Marketing Communication of iForte.
"The need for human resources in the film industry continues to grow, so it requires a new generation and hopes that the iForte Film Festival can produce quality human resources who can contribute positively to the Indonesian film industry," said Ferry Rusli.
Naya Anindita added that she hoped the iForte Film Festival could become a platform and trigger for young filmmakers in Palembang to start making films.
"As previously stated, the need for human resources in the film industry continues to grow, so I hope the young filmmakers in Palembang can bring a new vibe for the development of the film industry in Indonesia," said Naya Anindita.
The iForte Film Festival Palembang will continue with the film curation process by selected judges, including Hanung Bramantyo, Lukman Sardi, and Kamila Andini. The curated films will also be screened in the series of events at the Sriwijaya Festival, which will be held from 22-26 June 2023 at Plaza Benteng Kuto Besak Palembang.