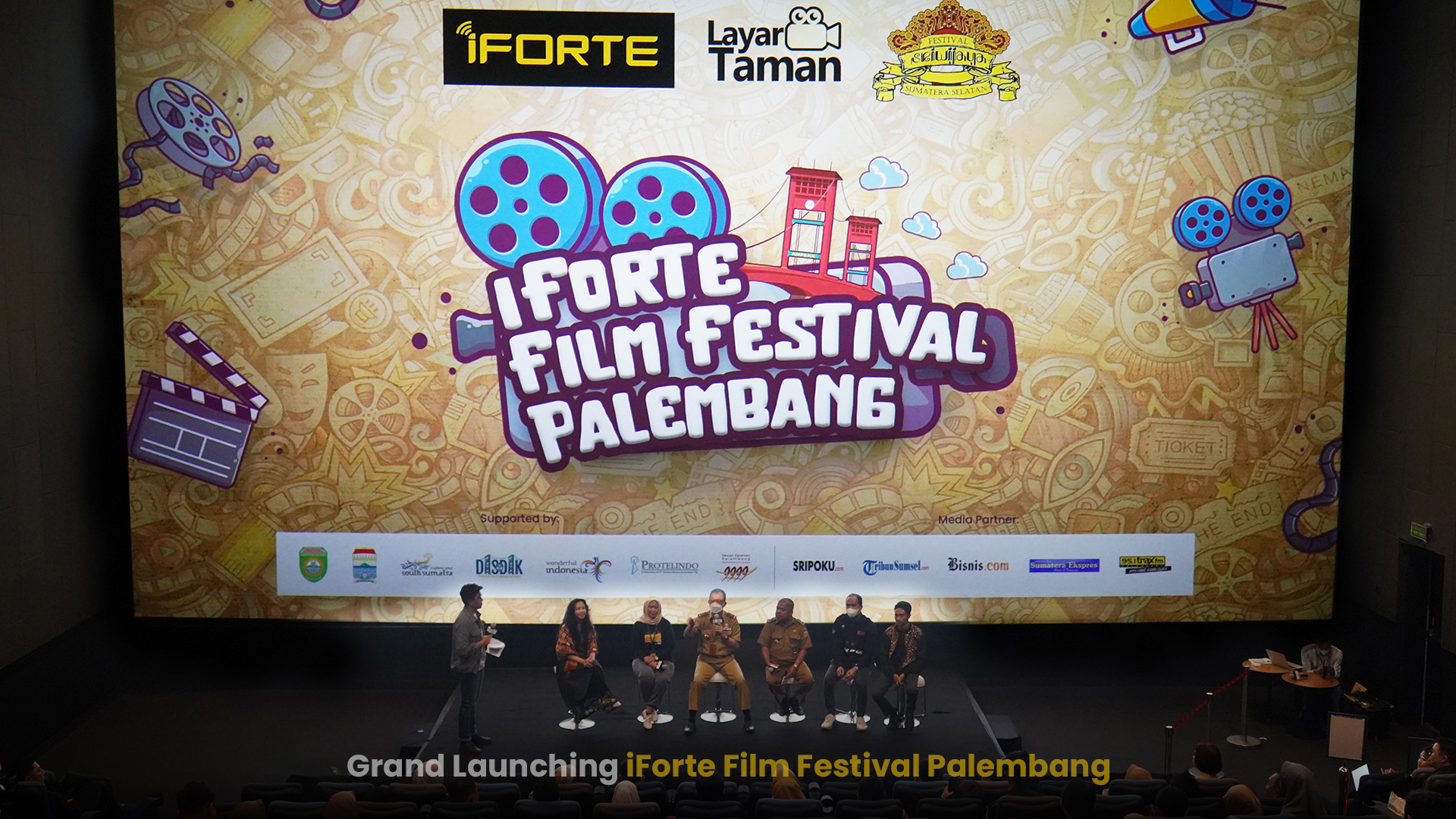 Monday, 3 April 2023 06:00
iForte Held iForte Film Festival Palembang for Young Filmmaker
PT iForte Solusi Infotek (iForte), a telecommunications infrastructure and internet service provider company, held a Palembang Film Festival competition officially launched at the Grand Launching event at the CGV Social Market Palembang. The Grand Launching is being held in conjunction with the celebration of National Film Day and the Road to Festival Sriwijaya XXXI 2023, which will be held on 22-26 June 2023 at Plaza Benteng Kuto Besak Palembang.
The grand launching was attended by Dr. H Aufa Syahrizal, SP., M.SC as Head of the Culture and Tourism Office of South Sumatra Province, Silvi Liswanda as Vice President Director and Chief of Sales & Marketing of iForte, Director Kamila Andini, Iqbal Rudianto from Palembang Arts Council, and Rifqi Zarkasih as Co-Founder of Layar Taman Community and Local Filmmaker.
Silvi Liswanda, Vice President Director and Chief of Sales & Marketing of iForte explained, "The iForte Film Festival was held to provide a platform for young filmmakers in Palembang to hone their talents in non-academic, especially in film art. South Sumatra, especially the City of Palembang, has a variety of arts and culture, which we want to highlight in the theme of this competition, namely "Palembang Kota Kito."
Dr. H Aufa Syahrizal, SP., M.SC, the Head of the South Sumatra Province Culture and Tourism Office, said, "We appreciate iForte for supporting the Sriwijaya Festival by holding this Short Film Festival. I hope this event will continue, especially since it's a film festival involving the younger generation, which is extraordinary. I hope that the millennial generation, especially in Palembang, will take advantage of this moment to explore all of our potentials, especially in film industry."
Registration has been open since the 20th of March and will close on May 31st, 2023. The exciting thing about the iForte Film Festival is that the works of the finalists will be screened during the Sriwijaya Festival, and the winners will be announced at the closing ceremony of the Sriwijaya Festival on June 26, 2023, so that the works of Palembang City filmmakers can enjoy Palembang city people who visit the Sriwijaya Festival.
In organizing the Palembang Film Festival competition, iForte collaborated with the Layar Taman community. Through this activity, iForte and Layar Taman will equip young local filmmakers with new insights through various workshops, which will be attended by several film experts ranging from directors, producers, and music directors to well-known Indonesian actors. "We hope that through this activity, young filmmakers can be more motivated to work and bring pride to Palembang," concluded Silvi.
On the same occasion, there was a Sharing Session with Director Kamila Andinisari with the theme "Exploring Local Stories Through Film Art Works" for 100 film community members from high schools and universities in Palembang.