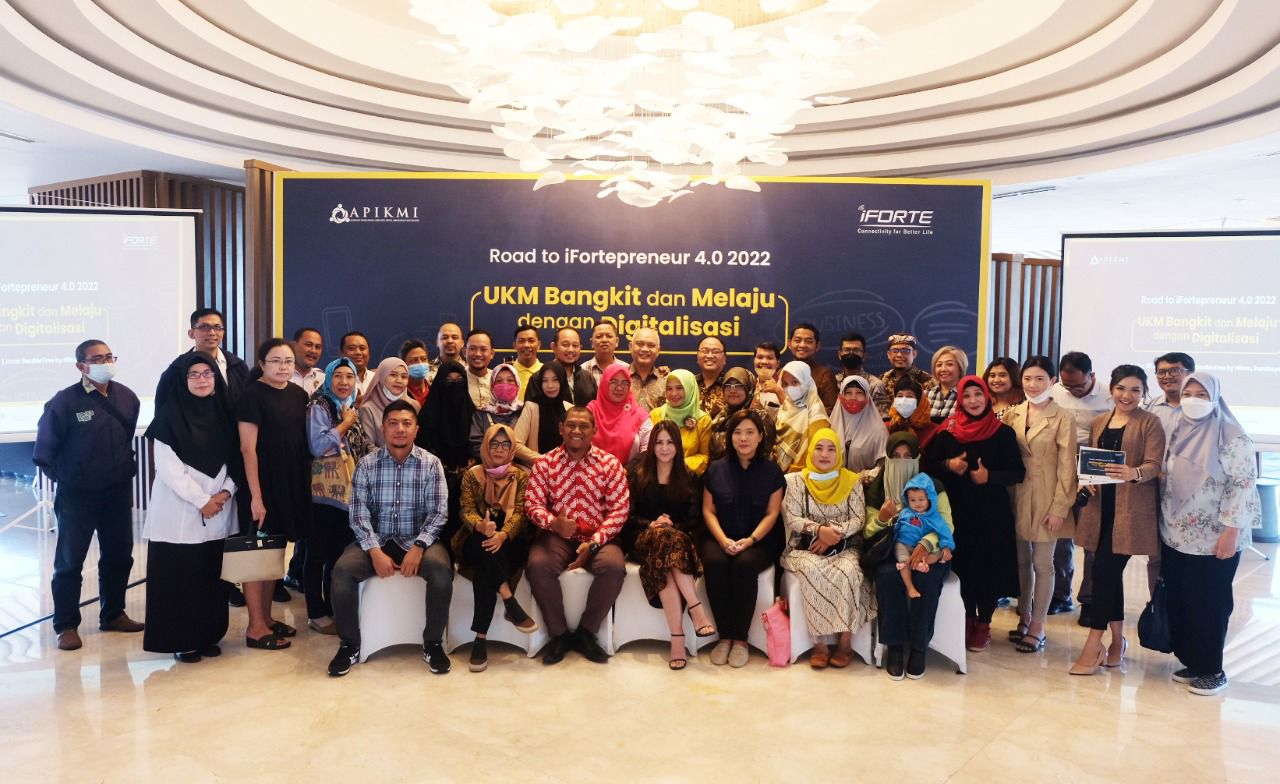 Friday, 5 August 2022 12:00
Digitization Helps SMEs To Grow and Advance
Jakarta, July 27, 2022 – As part of its Road to iFortepreneur 4.0 campaign, iForte held a sharing session on Tuesday (07/27) entitled SMEs (Small Medium Enterprises) Rising and Moving Through Digitization. This offline sharing session was attended by participants from various industries and took place at the Doubletree by Hilton Hotel, Surabaya, East Java. The event was made in collaboration with the Association of Indonesian Small and Medium Industry Entrepreneurs (APIKMI) and two guest speakers: Nilamsari Sahadewa and Donny Wahono Annur.
The sharing session began with Widia Erlangga as the representative of APIKMI explaining the importance of SMEs in adapting digital-based platforms. For instance, she cited how much of today's innovation in the SME industry can be found within digital marketplaces. According to Erlangga, SMEs still operating on more traditional marketplacess will miss out on a large share of the market and technology should they continue to neglect digital platforms.
The following session focused on exploring the advantages of digitization for SMEs and was led by Donny Wahono Annur, a global digital marketing expert and co-founder of the UKM Mendunia Foundation. According to Donny, since the internet is much more widely available today, the barrier to digitalization has become less and less high. Moreover, digitization may open new opportunities for SMEs as they expand market prospects, and expose businesses to global industries and trends. Lastly, Donny concluded how in order to dominate the export market in today's digital era, SMEs should among other things have a flagship product, conduct in-depth analyses of data from export target nations as well as develop sales collateral in the form of digital selling and logistics systems.
The concluding session was led by business consultant and founder of Kebab Baba Rafi, Nilamsari Sahadewa. In her talk, Nilamsari shared how her journey and experiences in the business field running Baba Rafi as a food cart business initially has grown to have hundreds of outlets in Indonesia and beyond. In mid-2022 Baba Rafi successfully sold their initial public offering (IPO) at the Indonesian stock exchange. In her speech, Sahadewa emphasized three things: SMEs must continuously seek innovation, have a collaborative spirit in order to achieve constant growth, and show a persistent trait in facing challenges that might come along the process.
Meanwhile, iForte's Head of Marketing Communication Victor Sihombing stated how this year marks the second year of the iForteprenuer program for SMEs; expressing his hope that through its Digital Business Plan program, iFortepreneur will be able provide new perspectives, guide burgeoning actors within the industry and accelerate creative, innovative thinking within the use of digital platforms by Indonesian SMEs.
"As we all know, in this era all fields are required to transform digitally. So, digitalization must emerge as a new habit as well as a challenge for all of us to make better use of information technology, particularly within the SME industry," said Victor.
In cooperation with Indonesia's Ministry of Cooperatives and SMEs, the Ministry of Tourism and Creative Economy, dan ITB's School of Business Management, iForte hopes that the iForteprenuer 4.0 program will help benefit and support Indonesian SMEs to be able to maximize their business potential by adopting increasingly digital platforms. This year's iFortepreneur program is expected to run til the end of 2022.
***
About iForte:
iForte is a subsidiary of PT Professional Telekomunikasi Indonesia or known as Protelindo, a subsidiary of PT. Sarana Menara Nusantara, Tbk. Protelindo is one of the largest independent tower providers in Indonesia, with more than 28,000 towers and more than 54,000 tenants.
By the end of 2021, iForte has succeeded in building and operating a fiber optic cable network of more than 100,000 km and a target of 135,000 km by the end of 2022. In addition, iForte has also succeeded in connecting more than 20,000 towers in Indonesia with fiber optic cable networks, and already has more than 6,000 VSAT sites and serves more than 2300 corporate clients.
For More Info Contact:
Victor Sihombing
Head of Marketing Communication PT iForte Solusi Infotek
victor.sihombing@iforte.co.id